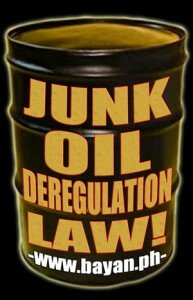 News Release
March 10, 2011
The umbrella group Bagong Alyansang Makabayan today scored Malacanang for being clueless about pending legislation that sought to remove the VAT on oil products. This came after Deputy Presidential Spokesperson Abigail Valte challenged lawmakers who are against the VAT on oil to file a bill in Congress.
"Ms. Valte appears clueless to the fact that there are pending bills on the VAT on oil and even the oil deregulation law now gathering dust in Congress. The problem is not the lack of legislation but the utter lack of political will and sense of urgency on the part of the Aquino government," said Bayan secretary general Renato M. Reyes, Jr.
"If government really wants to help the consumers, they can easily gather 188 signatures like they did with the impeachment and immediately repeal the VAT on oil," Reyes added.
Bayan's allied partylist group Bayan Muna has filed HB 2719 calling for the repeal of the VAT on oil. There are at least six pending bills related to the review and repeal of the oil deregulation law filed before the House Committee on Energy but not a single hearing has been set. The committee is chaired by Dina Abad of Aquino's LP.
Bayan said that it was immoral for government to be reaping windfall revenues from the surge in oil prices. "The government is profiting from the misery and suffering of the people. Oil prices abroad are already bloated by as much as 70% due to monopoly pricing and speculation, yet the government sees nothing wrong in profiting from this onerous set-up," Reyes said.
The group said that plugging tax leaks is a better alternative to the VAT on oil.
"The reason they don't want to give up the VAT on oil because it is a sure source of revenue. It is easier to collect the VAT on oil than say, stamping out corruption and plugging the tax leaks. When Aquino was running for president in 2010, he vowed to recoup the P150 billion annual tax leak. Meeting just half that target would compensate for any lost revenues from the repeal of the VAT on oil," Reyes added. ###