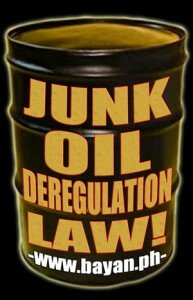 News Release
March 12, 2012
The umbrella group Bagong Alyansang Makabayan will join various groups in protest actions on March 15, World Consumer Rights Day. The militant group will be protesting continued increases in oil prices and what it decried as "government inaction".
"It's time for consumers to take a stand against the weekly oil prices increases and government callousness and inaction. The Aquino government should act now to lower oil prices and provide relief for the overburdened consumers," said Bayan secretary general Renato M. Reyes, Jr.
"It is not true that government is helpless. There is now the growing clamor to scrap, suspend or reduce the Value Added Tax on oil. There are pending bills in Congress that seek to control the prices of petroleum products amid bloated international and domestic prices. Our protest aims to press government to stop making excuses and address the problems of the consumers," he added
For the sixth straight week, oil prices are expected to go up again this time by 25 centavos per liter. With the increase in oil prices, government is also expected to announce this week a 50 centavo provisional fare hike for jeepney drivers.
"Oil consumers are faced with bloated global and local oil prices. On top of this, government imposes an oppressive 12% value added tax on oil. The VAT on oil is unjust considering that the government is earning windfall revenues from manipulated oil prices and the peoples' suffering. That's adding insult to injury," Reyes said.
"There are several pending bills for the removal of the VAT. All it takes it political will from the administration. If they can muster 188 votes for the impeachment, why not do the same for the repeal, suspension or reduction of the VAT? The ball is in Malacanang's court now," he added.
Bayan argued that it is time to review and repeal the Oil Deregulation Law given the abuses in pricing here and abroad. The group said that the surge in global oil prices can be attributed to a combination of monopoly pricing and price speculation in commodity futures. The group said world oil prices could be bloated by as much as 70% compared to their actual production cost.
Bayan also said that the deregulation of the oil industry gives too much leeway for the oil firms to set their prices, even above the already bloated world market prices.
Different methodologies point out that the price movements in the country are faster and bigger than the prices movements in the world market.  A study by Ibon Foundation shows that oil prices in the Philippines moved at a faster rate of 20-22% compared to world price movements. Estimates of domestic 'overpricing' have ranged from P8.61 for diesel to P16.83 for gasoline based on studies by BAYAN on a rule of thumb for Dubai crude and foreign exchange fluctuations. Meanwhile, a 2009 NEDA presentation using straight-line interpolation showed an unexplained discrepancy between global and local price movements amounting to P6.91 to P8.69/liter for premium and unleaded gasoline. ###